Online Ango Intensive: Intimate Language, Turning Words
with Geoffrey Shugen Arnold, Roshi
October 12 - 15, 2023
Hearing words you should grasp the great reality. – Identity of Relative & Absolute
The Buddhist tradition has a keen understanding of how easily we can get entangled in words and ideas. At the same time, for centuries Dharma teachers, especially in the Mahayana, have used turning words in their teachings, phrases that free the mind of self-clinging and conceptual proliferation. Zen teachings in particular, use live words to teach the Dharma, to remind the student of the essentials, to release the student's mind of attachments and to point to reality and bring one to realization.
This Intensive will take place within the MRO's Ango, 90-Day Training Period during which we will be studying the 59 Mind Training Phrases of the Indian Buddhist master Atisha. During the retreat we will study selected phrases (numbers 17-29) focusing on how to live dharma practice within and beyond meditation, trusting oneself, having integrity within the Path, keeping one's attention on point, and manifesting compassion for others and oneself.
There will be periods of meditation interwoven with teachings and discussions, giving rich opportunities to reflect on these teachings and practices, and learn from ourselves and each other.
Our online programs are offered by donation so that everyone can participate. We appreciate your support.
Teacher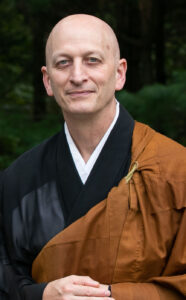 Geoffrey Shugen Arnold, Roshi
Geoffrey Shugen Arnold, Roshi is the Head of the Mountains and Rivers Order and Abbot of Zen Mountain Monastery. Shugen entered full-time residential training in 1986 after studying mathematics and receiving a degree in classical music. He received dharma transmission from John Daido Loori, Roshi in 1997. His teachings on Zen, social justice and environmental stewardship have appeared in various Buddhist journals, and The Best Buddhist Writing 2009 (Shambhala Publications). His book of poetry, O, Beautiful End, a collection of Zen memorial poems, was published in 2012.
Learn more about Geoffrey Shugen Arnold, Roshi