Guided by Precepts: An Introduction
with Jody Hojin Kimmel, Sensei
October 7, 2023
The 16 Bodhisattva Precepts provide an ethical foundation for living an awakened life. The Precepts derive from guidelines for living harmoniously in community that arose during Shakyamuni Buddha's lifetime. Today, our understanding of the Precepts is guided by the Buddhist principles of impermanence and no-self. The Precepts provide a foundation for how we relate to others and function in the world, arising out of our deepest wisdom and compassion.
Join Hojin Sensei for this introduction to the Buddhist Precepts.
Teacher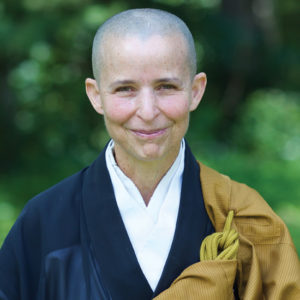 Jody Hojin Kimmel, Sensei
Jody Hojin Kimmel, Sensei received the priestly transmission (the transmission of the Precepts) from Daido Roshi, who began the process in 2009, and from Shugen Roshi, who completed the transmission in 2012. In 2017, she received full dharma transmission from Shugen Roshi. She serves as the Training Director for the Mountains and Rivers Order and Abbot of the Zen Center of NYC-Fire Lotus Temple . Hojin Sensei began her artistic career early and has taught drawing, ceramics, and painting, opening people up to the wonders and mysteries of the creative process and continues to offer Art Practices as part of her teaching. She has been in full-time residential training at the Monastery since 1990 and now shares her time at the Brooklyn temple.
Learn more about Jody Hojin Kimmel, Sensei