Open Hearth Art Practice Presents: Across Breath, Voice, Silence
with Ellery Seifu Eskelin, MRO
December 15, 2023
Come join us for a performance of saxophone improvisation with Zen practitioner and sangha member Ellery Seifu Eskelin.
In Seifu's words, "Improvised music is above all a process, always unfolding, always revealing. A process in which you have to fully participate as a performer or listener."
Tickets are $10 per person in advance. All proceeds go directly to the artist. No one will be turned away or denied reservation for lack of funds. Registration will be limited to 30 people.
If you would like to make an additional donation, all proceeds will go directly to the artist. Thank you!
Artwork (right) by Jan Scheir.
Teacher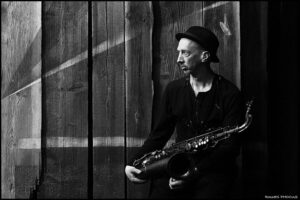 Ellery Seifu Eskelin, MRO
Ellery Seifu Eskelin, MRO, has been a professional musician since 1981 in the world of jazz and improvised music. He has traveled internationally and has released recordings documenting collaborations with a broad range of musicians. He has been practicing at the Temple and Monastery since 2014, receiving jukai from Shugen Roshi in 2019. Photo © Luciano Rossetti
Learn more about Ellery Seifu Eskelin, MRO