Buddha's Enlightenment Vigil (ZCNYC)
with Jody Hojin Kimmel, Sensei
December 8 - 9, 2023
Shakyamuni Buddha was enlightened when he saw the morning star rising in the east. At Fire Lotus Temple, we mark that moment of awakening each year with a Morning Star Vigil. This silent, all-night period of deep sitting is a wonderful way to celebrate both the Buddha's enlightenment and our present good fortune at having encountered the dharma and sangha in our own lives. Over the years, it has become a very powerful and important event for many at Fire Lotus.
At ZCNYC, we celebrate the Buddha's enlightenment with a vigil dedicated to the simple yet profound practice of zazen, which Dogen Zenji called the "dharma gate of ease and joy." We'll begin the evening at 6:30pm with a light, informal pot-luck sangha supper. At 8:30pm, the Vigil begins with Hojin Sensei offering a teaching in the zendo. Following this, all is silent and still as each participant turns inward to give themselves completely to their meditation practice.
There is no structure or marking of time throughout the night, though there will be at least one person inn the zendo throughout the night. Participants can sit as long as they like, changing postures when needed, and taking breaks at their own discretion. Green tea will be made available to sip on, and sleeping mats will be available for those who would like to rest during the night. The vigil can be joined until 11pm, and those present may stay for all or any portion of the vigil, leaving during the night if necessary. The vigil concludes with a morning service and poem dedicated to Shakyamuni Buddha at 7am. Please join us in celebration.
The Temple residents will prepare a pot of chili and a salad. Additional salads, bread, appetizers, cold drinks, teas, chips, fruit, grains, vegetables, dips, dressings, casseroles, cakes, pies, cookies and so on would all be welcome. Please prepare for 10-12 people. Thank you!
Teacher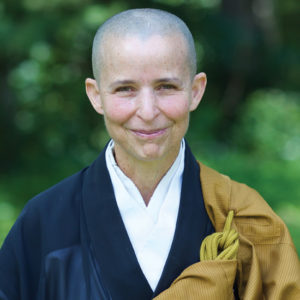 Jody Hojin Kimmel, Sensei
Jody Hojin Kimmel, Sensei received the priestly transmission (the transmission of the Precepts) from Daido Roshi, who began the process in 2009, and from Shugen Roshi, who completed the transmission in 2012. In 2017, she received full dharma transmission from Shugen Roshi. She serves as the Training Director for the Mountains and Rivers Order and Abbot of the Zen Center of NYC-Fire Lotus Temple . Hojin Sensei began her artistic career early and has taught drawing, ceramics, and painting, opening people up to the wonders and mysteries of the creative process and continues to offer Art Practices as part of her teaching. She has been in full-time residential training at the Monastery since 1990 and now shares her time at the Brooklyn temple.
Learn more about Jody Hojin Kimmel, Sensei