Further Steps Along the Path of Zen: Exploring Wisdom and Compassion
with Mn. Shoan Ankele and Mn. Gokan Bonebakker
February 9 - 11, 2024
Within the dharma, wisdom and compassion are sometimes spoken of as the two wings of a bird—we need both of them to fly. We can nurture these qualities in how we engage our life as a field of practice. For the most part, the barriers we encounter and the sources of our suffering are created by our misunderstanding of the nature of things. As we begin to develop some insight into the nature of mind, our experience of our life begins to shift. This is what all of Zen practice is pointing towards.
During the morning, we will focus on zazen, looking at developing concentration, working with thoughts and emotions, and what it means to cultivate compassion as part of a meditative practice. In the afternoon, our focus will shift to how we can develop our practice off of the cushion. What does concentration look like in the midst of full-on activity? How can awareness transform our experience of difficult feelings on the spot? How does softening and opening to our own experience nurture our compassionate heart? 
This weekend retreat is meant to be a follow up to our popular Introduction to Zen Training Weekend. For those interested in doing sesshin, it will also provide an opportunity to experience more extended periods of silence and zazen within the midst of the Three Treasures: the Buddha, Dharma and Sangha, as well as an opportunity for face-to-face teaching
As with all in-person retreats at the Monastery, participants are required to follow the current protocol for keeping everyone safe. Please review the current protocol requirements before registering, and if you have further questions, please contact the registrar.
Financial concerns should not prevent you from attending a program at the Monastery. If you can't afford the program fee, you can see these options.
Teachers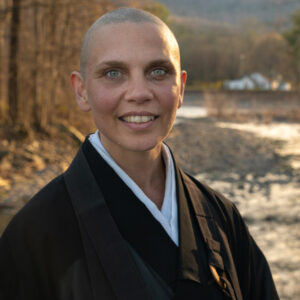 Mn. Shoan Ankele
Danica Shoan Ankele is a Dharma Holder and Senior Monastic in the Mountains and Rivers Order. A native of New York City, she first came to the Monastery as a sophomore in college and has been in full time residential training since 2007. She became a senior student in 2009 and took full monastic ordination with Shugen Roshi in 2015. Shoan is the Monastery's Creative Director and Training Coordinator. She also oversees our Tenkozan line of statues and naturally dyed fabrics, designed and produced on the Monastery grounds.
Learn more about Mn. Shoan Ankele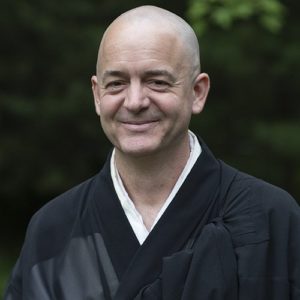 Mn. Gokan Bonebakker
Bear Gokan Bonebakker is a senior monastic and a Dharma Holder. He first came to the Monastery in 1994, and has been in residence since 2007. Gokan is the Operations Director, helps coordinate the National Buddhist Prison Sangha, and works in the orchard.
Learn more about Mn. Gokan Bonebakker