Beginning Instruction Online
with Chris Yudo Abraham
December 22, 2023
Learn how to sit zazen and establish a personalized practice space of your own. Join us afterwards on Livestream.com/MRO [for kinhin at 8:05pm and zazen @ 8:15pm] for the conclusion of the Monastery's evening zazen and chanting the Four Bodhisattva Vows.
There will be plenty of time for questions. Offered approximately every six weeks.
Please plan to sign on promptly by 6:30pm.
Your registration confirmation will include a link to the Zoom session.
Our online programs are offered by donation so that everyone can participate. We appreciate your support.
Teacher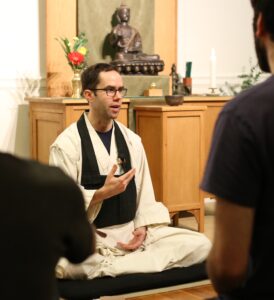 Chris Yudo Abraham
Chris Yudo Abraham became a senior student in the Mountains and Rivers Order in 2013 after spending some years in residential training at the monastery and at the temple in NYC. He works in software development and runs sitting groups in SE Asia.
Learn more about Chris Yudo Abraham