Service to the Temple: Zazen, Volunteering, & Service Position Training
with Jody Hojin Kimmel, Sensei
December 2, 2023
Come join us for a day of zazen, volunteer service to the Temple, and training in a liturgical service position!
Working together is part of our life and part of our practice. It allows us to honor and care for the sacred space that Fire Lotus Temple provides in our city. Please join with the community for this morning beginning with zazen practice and then moving into a period of work service together. There will be work available for all skills and abilities.
After a lunch break with snacks, tea and some time to chat, we will offer Service Position Training for those who would like to take an active role in the Temple's liturgy services. This training is open to anyone who comes regularly to the Temple, particularly on Sundays, and would like to learn a beginning service position. We will be training ushers, altar ushers, timekeepers and a few other positions. MRO Students are welcome to come and give or receive training.
Morning Schedule:
9:00 to 9:50   Morning zazen
10:00 to 12 noon   Work service
12 noon to 1:30   Fruit, tea & snacks
1:30- 2:30pm   Service Position Training
Teacher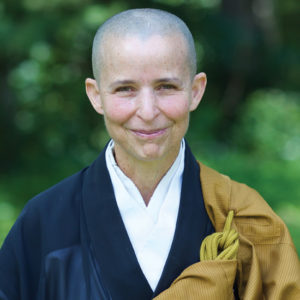 Jody Hojin Kimmel, Sensei
Jody Hojin Kimmel, Sensei received the priestly transmission (the transmission of the Precepts) from Daido Roshi, who began the process in 2009, and from Shugen Roshi, who completed the transmission in 2012. In 2017, she received full dharma transmission from Shugen Roshi. She serves as the Training Director for the Mountains and Rivers Order and Abbot of the Zen Center of NYC-Fire Lotus Temple . Hojin Sensei began her artistic career early and has taught drawing, ceramics, and painting, opening people up to the wonders and mysteries of the creative process and continues to offer Art Practices as part of her teaching. She has been in full-time residential training at the Monastery since 1990 and now shares her time at the Brooklyn temple.
Learn more about Jody Hojin Kimmel, Sensei