One Continuous Thread: Home Practice Intensive—March 2024
with Geoffrey Shugen Arnold, Roshi, Jody Hojin Kimmel, Sensei and Ron Hogen Green, Sensei
March 25 - 31, 2024
Welcome to One Continuous Thread, a way to bring elements of a formal zazen intensive into your daily life. You will be able to participate with ZMM's Sesshin via live webcast.
We've designed this retreat keeping in mind the unique circumstances that each person finds themselves in. Some people can engage fully with a sesshin schedule in their homes; others may seek the rigors and rewards of a zazen intensive while navigating their ongoing responsibilities to work, family and friends. One Continuous Thread can hold it all as we sit together, even while our needs and experiences might be quite diverse.
Further guidance on how to engage with the retreat, and a full schedule of the Monastery's zendo activities, will be sent to you no earlier than Monday afternoon. You can base your own sitting around that or set your own schedule.  
There will be Opening Guidelines via Zoom on Monday night, and all participants, especially new ones, are encouraged to attend (regardless of day of arrival), and an evening Closing Reflections on Friday evening.  
All participants who are interested can register for a group Zoom meeting with a teacher during the week; please let the Registrar know via email: registrar@dharma.net. 
Teachers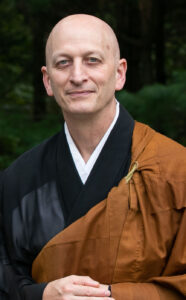 Geoffrey Shugen Arnold, Roshi
Geoffrey Shugen Arnold, Roshi is the Head of the Mountains and Rivers Order and Abbot of Zen Mountain Monastery. Shugen entered full-time residential training in 1986 after studying mathematics and receiving a degree in classical music. He received dharma transmission from John Daido Loori, Roshi in 1997. His teachings on Zen, social justice and environmental stewardship have appeared in various Buddhist journals, and The Best Buddhist Writing 2009 (Shambhala Publications). His book of poetry, O, Beautiful End, a collection of Zen memorial poems, was published in 2012.
Learn more about Geoffrey Shugen Arnold, Roshi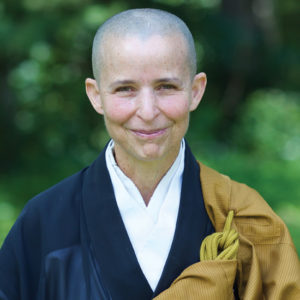 Jody Hojin Kimmel, Sensei
Jody Hojin Kimmel, Sensei received the priestly transmission (the transmission of the Precepts) from Daido Roshi, who began the process in 2009, and from Shugen Roshi, who completed the transmission in 2012. In 2017, she received full dharma transmission from Shugen Roshi. She serves as the Training Director for the Mountains and Rivers Order and Abbot of the Zen Center of NYC-Fire Lotus Temple . Hojin Sensei began her artistic career early and has taught drawing, ceramics, and painting, opening people up to the wonders and mysteries of the creative process and continues to offer Art Practices as part of her teaching. She has been in full-time residential training at the Monastery since 1990 and now shares her time at the Brooklyn temple.
Learn more about Jody Hojin Kimmel, Sensei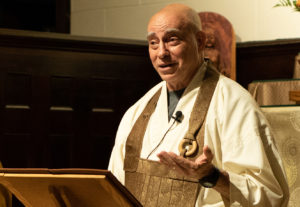 Ron Hogen Green, Sensei
Ron Hogen Green is a husband, father, grandfather, sports-enthusiast, retired podiatrist, and a lay teacher in the Mountains and Rivers Order. Hogen Sensei formally began practicing Zen in 1978 with Philip Kapleau Roshi, shortly after graduating medical school and entering private practice. In time, Hogen and his wife, Cindy Eiho Green, helped run the Denver Zen Center, an affiliate of Kapleau Roshi's Rochester Zen Center. He attended his first retreat at Zen Mountain Monastery in 1988, and not long after began studying with Daido Roshi. In 1993, Hogen completed his training in the Kapleau Lineage and was designated a senior student in the Mountains and Rivers Order. He and Eiho left Denver in 1995 and entered full time residency at ZMM. At the Monastery, Hogen served as Director of Operations for Dharma Communications for 10 years and, in 2000, ordained as a monastic. In 2007, Hogen Sensei returned to lay life, spending time with family while continuing to play an active role in the MRO, its practice centers and affiliates. In 2016, he received dharma transmission from Shugen Roshi, becoming the first lay teacher in the Order. He served as co-director of the Zen Center of NYC for a number…
Learn more about Ron Hogen Green, Sensei