Premier Solo Performance: The Slowest Wave
with Vangeline
May 11, 2024
On Saturday evening, Vangeline will premier a new solo work, followed by a Q&A with the artist. Please join us!
The Slowest Wave (excerpt)
In collaboration with neuroscientists Sadye Paez and Constantina Theofanopoulou, neuro engineer Jose 'Pepe' Contreras-Vidal, and composer Ray Sweeten, Vangeline choreographed a 60-minute ensemble butoh piece during her Gibney Dance DiP Artist Residency 2022-2023. The choreography is uniquely informed by the protocol established for a scientific pilot study researching the impact of butoh on brain activity. For the groundbreaking art-science study, dancers' brain activity was recorded at the University of Houston, Texas, with real-time visualization by multimedia artist Badie Khaleghian of the dancers' neural activity. Results were then disseminated in scientific journals.
Vangeline and Sweeten have built on a 20-year history of creative collaboration with a soundscape that is informed by techniques of brainwave entrainment (techniques that affect consciousness through sound). The Slowest Wave investigates through the use of scalp EEG how brain waves during butoh dancing compare to those emitted during other conscious or unconscious motor behaviors, such as speaking or meditating. Moreover, the study will elucidate the functional neural networks of the dancers and the neural synchrony within and between them. This project is meant to foster connections and understanding between dancers, artists, scientists, engineers, and audiences from around the world.
A work in progress of The Slowest Wave premiered at Triskelion Arts in Brooklyn in October 2022 and at Gibney Dance in January 2023.
Developed in post-World War II  Japan, Butoh is a performance form characterized by deep investigation of  impermanence, authentic expression, and letting go. Butoh as a body practice is about "revealing" rather than "showing." In the same way that we reveal the mind to ourself through single pointed concentration in zazen, in Butoh we reveal our mind through attention in the body. We can take this practice as a wonderful opportunity to practice concentration, regardless of our surrounding circumstances.
This registration is for Saturday evening's performance only.
All visitors to the Monastery are required to follow the current protocol for keeping everyone safe (this link is updated frequently so check back). Review the current protocol requirements before registering, and if you have further questions, please contact the registrar.
Please enter at the Sangha House and check in with the front door greeter when you arrive.
Here you can read an interview with Vangeline from Tricycle magazine, and listen here where she is featured on the BBC in Dessa Darling's show Deeply Human.
This performance is by donation. Thank you for your support!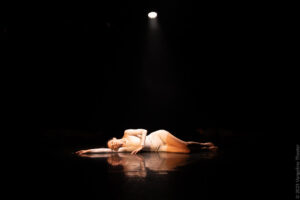 Teacher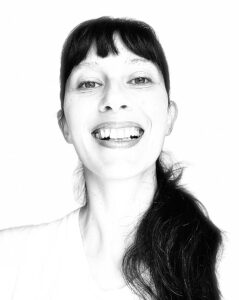 Vangeline
Vangeline is a teacher, dancer, and choreographer specializing in the Japanese postwar avant-garde movement form Butoh. She is the Artistic Director of the Vangeline Theater (NYC), a dance company firmly rooted in the tradition of Japanese Butoh while carrying it into the 21st century. She was born in Bourgogne, France and moved to New York in 1993. You are encouraged to read her full biography here. Widely regarded as an expert in her field, Vangeline has taught at Cornell University, New York University, Brooklyn College, CUNY, Sarah Lawrence, and Princeton University (Princeton Atelier). Film projects include a starring role alongside actors James Franco and Winona Ryder in the feature film by director Jay Anania, 'The Letter" (2012-Lionsgate). In recent years, she has been commissioned by triple Grammy Award-winning artists Esperanza Spalding, Skrillex, and David J. (Bauhaus). She is the author of the critically-acclaimed book: Butoh: Cradling Empty Space, which explores the intersection of butoh and neuroscience. Her work is the subject of CNN's "Great Big Story" "Learning to Dance with your Demons." She is featured here in an interview with Tricycle magazine, and here on the BBC in Dessa Darling's show Deeply Human. She is also the founder of the award-winning program " The Dream…
Learn more about Vangeline