Wonder into Wonder: An Art Practice Retreat
with Jody Hojin Kimmel, Sensei
April 12 - 14, 2024
The dharma realm in the ten directions arises from the single mind. When the single mind is still, all appearances are entirely exhausted, Which one is over there? Which one is myself?
 —Hongzhi  Cultivating the Empty Field Practice instruction
Perhaps the greatest wonder of all is that we have the ability to wonder, to reflect, and to have this capacity as a natural by-product of being alive which is simply amazing! Then, the question- how to nurture doubt and inquiry in our favor?
To say "I wonder" can mean many things. We call something "a wonder" when it is an astonishing thing or accomplishment, a miraculous event like the birth of a baby, or when we are uncertain and having doubts. It's also "the emotion excited by the perception of something novel, unexpected, or inexplicable, sometimes mingled with perplexity or bewildered curiosity."
 "Wonder" is the state of mind in which these emotions are held. When we observe something wonder-full and marvelous, we are filled with wonder, infused with awe. How can this state of mind help us navigate our everyday lives in the face of impermanence? Can this state of mind penetrate all appearances in our life, unconditionally? How might awe be a saving grace?
Supported by zazen and the monastery schedule, we will work with traditional and experimental processes through drawing, movements of our body, words, splashes of color, and raw pigments tenderly culled from the earth. By disappearing into wondering "what!" wondering "if!,  we can explore the ten thousand things directly by experiencing how wonder is verified and fulfilled.
All are welcome come and throw open this Gate of Art Practice.
As with all in-person retreats at the Monastery, participants are required to follow the current COVID protocol for keeping everyone safe (this link is updated frequently so check back). Review the current protocol requirements before registering, and if you have further questions, please contact the registrar.
Financial concerns should not prevent you from attending a program at the Monastery. If you can't afford the program fee, you can see these options.
Teacher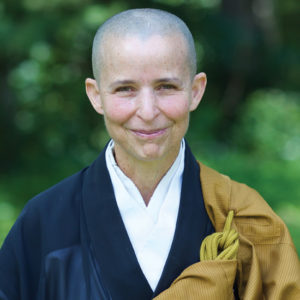 Jody Hojin Kimmel, Sensei
Jody Hojin Kimmel, Sensei received the priestly transmission (the transmission of the Precepts) from Daido Roshi, who began the process in 2009, and from Shugen Roshi, who completed the transmission in 2012. In 2017, she received full dharma transmission from Shugen Roshi. She serves as the Training Director for the Mountains and Rivers Order and Abbot of the Zen Center of NYC-Fire Lotus Temple . Hojin Sensei began her artistic career early and has taught drawing, ceramics, and painting, opening people up to the wonders and mysteries of the creative process and continues to offer Art Practices as part of her teaching. She has been in full-time residential training at the Monastery since 1990 and now shares her time at the Brooklyn temple.
Learn more about Jody Hojin Kimmel, Sensei