Sangha Treasure Weekend
with Geoffrey Shugen Arnold, Roshi
November 9 - 11, 2018
This Sangha Treasure meeting is for both formal students and those who consider themselves to be active members of the MRO sangha.
Saturday will include a Sangha Treasure meeting with small group sharing, a mondo with MRO teachers, and a Fusatsu (Renewal of Vows) Ceremony. We'll cap the weekend off with Jukai on Sunday morning. The final schedule is still in formation and will be posted a few days in advance of the weekend. You are welcome to come for the whole weekend or just parts.
Our focus for Saturday will be the abuse of authority and power in spiritual communities, beginning with our own. With our study of Buddha Ancestors this ango, and with the harmful karma in our own lineage still reverberating, this is an extremely important subject for each of us as MRO students and dharma practitioners.
Sangha Treasure weekend is a chance to experience the power and depth of spiritual community, the ways in which we challenge one another and support one another on the path to waking up. Please come ready to shine the light of awareness onto our sangha's shadowed realms with the intention to help heal and transform.
If you have questions or concerns about the weekend or your participation in it, please call the Training Office. We'd be happy to speak with you. The weekend is by donation.
Teacher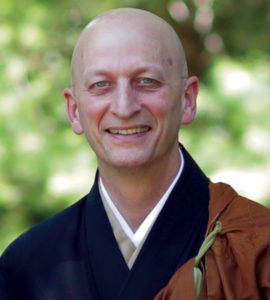 Geoffrey Shugen Arnold, Roshi
Geoffrey Shugen Arnold, Roshi is the Head of the Mountains and Rivers Order, abbot and resident teacher of Zen Mountain Monastery, and abbot of the Zen Center of New York City. Shugen Roshi has been in full-time residential training since 1986; he received dharma transmission from Daido Roshi in 1997. His teachings have appeared in various Buddhist journals, The Best Buddhist Writing 2009, and his first book, O, Beautiful End, a collection of Zen memorial poems, was published in 2012.
Learn more about Geoffrey Shugen Arnold, Roshi