February Bodhidharma Sesshin
With MRO Teachers
February 18 - 24, 2019
For February sesshin, in the spirit of Bodhidharma, practitioners are invited to connect even more intimately with zazen through the offering of extended silence and self-reliance. Throughout the week, the emphasis is on zazen; no talks or face-to-face interviews will be scheduled. Instead, we will allow our practice to be led by the deep winter silence. We will wake up each day long before dawn to begin a schedule that includes zazen, chanting services, formal silent meals in the zendo (oryoki), and work practice. This sesshin is an opportunity to draw from the tremendous strength of people practicing together and experience the deep stillness that lies within each one of us.
This sesshin may be joined in progress as late as Friday evening. First-time sesshin participants should call the Training Office to set up a "sesshin interview" as part of the registration process.
Please don't let financial issues prevent you from attending a program at the Monastery. If you can't afford the program fee, there are options.
Teacher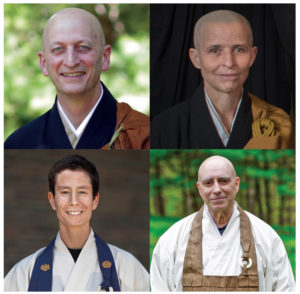 MRO Teachers
Zazen intensives at the Monastery are led by Shugen Arnold, Roshi, and other teachers in the Mountains and Rivers Order. In general, Roshi, Hojin Sensei and Zuisei Sensei are teaching at each month's sesshin; Hogen Sensei is present for the Spring and Fall sesshins. If you would like to confirm whether a particular teacher will be present at a retreat and offering face-to-face teaching, email the registrar. For more information on our teachers, visit this page.
Learn more about MRO Teachers