What Gets Left Out? Exploring Cultural Spiritual Bypassing
with Sebene Selassie
April 20, 2019
What Gets Left Out?: Exploring Cultural Spiritual Bypassing
Spiritual bypassing is described by John Welwood as using spiritual practice to avoid addressing psychological wounds and unresolved personal issues. This is usually addressed only on the individual/psychological level, yet a spiritual practice can be used to avoid or "bypass" unresolved collective/cultural issues as well, which we could call cultural spiritual bypassing. In this daylong retreat we will explore some commonly bypassed issues such as racism, social justice, and identity politics and the ways the modern form of our practice (silent, intellectual, secular) can determine what gets left out. We will touch on how cultural spiritual bypassing manifests both collectively and individually, especially within some contemporary convert Buddhist traditions.
We strive to keep our retreat prices low and offer these programs on a sliding scale. It's important that the dharma is available to everyone. Thank you for your continued support.
No deposit is necessary to register. You can pay the full balance at the door by cash, check or credit card.
Teacher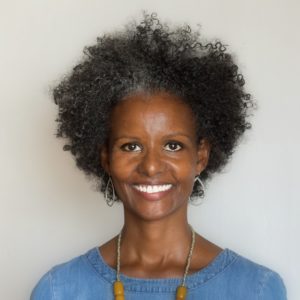 Sebene Selassie
Sebene Selassie is a writer, teacher, coach and consultant. She began studying Buddhism over 25 years ago as an undergraduate at McGill University where she majored in Comparative Religious Studies. She has an MA from the New School where she focused on race and cultural studies. For over 20 years she worked with children, youth, and families nationally and internationally for small and large not–for–profits. Her work has taken her everywhere from the Tenderloin in San Francisco to East Harlem, NYC to refugee camps in Guinea, West Africa. She is a graduate of the Community Dharma Leader (CDL4) program at Spirit Rock and continues her training with her primary teachers, Thanissara and Kittisaro. She is the former Executive Director of New York Insight Meditation center and currently serves on the boards of the Barre Center for Buddhist Studies and Sacred Mountain Sangha. Sebene is passionate about making the dharma accessible and relevant for our times and teaches regularly online, in New York City, and nationally. She is a three time cancer survivor.
Learn more about Sebene Selassie