The Dharma of Social Engagement
with Venerable Dr. Pannavati
April 6, 2019
"It is not enough to sit on our zafus. These times call for compassionate action to be an integral part of our practice."
Our meditation practice alone cannot not serve as our sole commitment to help end the suffering of others. We have a powerful opportunity to change ourselves and benefit society when we let go of ownership of the results. This, practical yet profound way of expressing the Buddha's teaching of non-self can be developed and in this retreat, we'll explore the immense goodness and power of our true essence and how to use this to inspire change in the world. Through inquiry and self-examination, we will begin penetrating this aspect of our Buddha nature as we embody our true interdependence with everything that surrounds us.
We strive to keep our retreat prices low and offer these programs on a sliding scale. It's important that the dharma is available to everyone. Thank you for your continued support.
No deposit is necessary to register. You can pay the full balance at the door by cash, check or credit card.
Teacher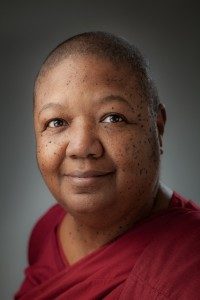 Venerable Dr. Pannavati
Venerable Dr. Pannavati, a former Christian pastor, is ordained in the Theravada and Chan traditions and is a Zen Peacemaker Order Dharma Holder. She and advocates on behalf of disempowered women and youth globally; and insists on equality and respect in spiritual life for both female monastics and laity. Ven. Pannavati is co-abbot of Embracing Simplicity Hermitage and founder of Heartwood Refuge, a 90-bedroom Buddhist retreat and residential practice community in Hendersonville NC.
Learn more about Venerable Dr. Pannavati