Zazenkai – July
with MRO Teachers
July 13, 2019
Zazenkai presents us with an opportunity to return to the well of introspection and committed Zen practice. Each day includes an extended schedule of zazen, liturgy, face-to-face interview with a teacher or dharma holder, a formal talk and oryoki lunch (formal meal served in the zendo). Zazenkai is an important way for experienced students to further their practice and for newer students to take a preparatory step toward the practice of sesshin.
No deposit is necessary to register. You can pay the full balance at the door by cash, check or credit card.
Teacher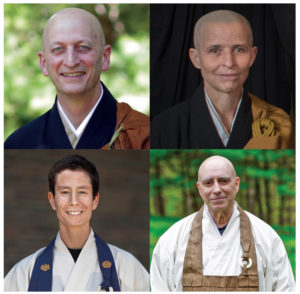 MRO Teachers
Zazen intensives at the Monastery are led by Shugen Arnold, Roshi, and other teachers in the Mountains and Rivers Order. In general, Roshi, Hojin Sensei and Zuisei Sensei are teaching at each month's sesshin; Hogen Sensei is present for the Spring and Fall sesshins. If you would like to confirm whether a particular teacher will be present at a retreat and offering face-to-face teaching, email the registrar. For more information on our teachers, visit this page.
Learn more about MRO Teachers