Of Benefit to All – The Four Immeasurables
with Geoffrey Shugen Arnold, Roshi
June 7 - 9, 2019
Loving kindness, Compassion, Gladness and Equanimity
How do we live with – and within – ourselves? How do with live with others? While every great religion teaches compassion and kindness, most of us are challenged to truly express this in our thoughts, words and actions. We know that kindness has the power to transform people's lives and the world, yet we can so easily and often get entangled in anger, harsh judgements, stinginess and inner turmoil. Having faith in original enlightened nature – Buddha Nature – is to have faith in our own basic kindness, desire for well-being, and generosity, and to wish this for others.
The Four Immeasurables originated with the Buddha. A simple and profound teaching that, if practiced deeply, will bring us into intimate contact. In this retreat, we'll study and practice these teachings as they are intended, to benefit both ourselves and all people, creatures and things. In this, we can strengthen our faith in our own capacity to be such a person; one who generates such virtues in all directions. At the same time that our faith deepens, the virtues of the Four Immeasurables become embodied within ourselves and our relations with others.
Please don't let financial issues prevent you from attending a program at the Monastery. If you can't afford the program fee, there are options.
Teacher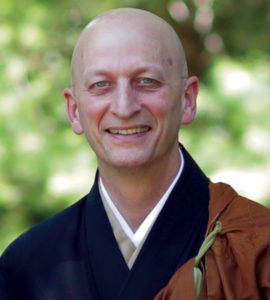 Geoffrey Shugen Arnold, Roshi
Geoffrey Shugen Arnold, Roshi is the Head of the Mountains and Rivers Order, abbot and resident teacher of Zen Mountain Monastery, and abbot of the Zen Center of New York City. Shugen entered full-time residential training in 1986 after studying mathematics and receiving a degree in classical music. He received dharma transmission from John Daido Loori, Roshi in 1997. His teachings on Zen, social justice and environmental stewardship have appeared in various Buddhist journals, and The Best Buddhist Writing 2009 (Shambhala Publications). His book of poetry, O, Beautiful End, a collection of Zen memorial poems, was published in 2012.
Learn more about Geoffrey Shugen Arnold, Roshi