Intermediate Kyudo: Zen Archery Intensive
with Don Symanski
August 13 - 18, 2019
This is one of the foremost Kyudo training opportunities in the US. You'll receive personalized instruction in basic and formal group shooting. You'll learn formless aspects of Kyudo as well. Designed for anyone who has taken "first shot" at the Monastery or elsewhere. 
Over the years, the Monastery's Kyudo retreats have developed a reputation for being foremost among Kyudo training opportunities in the U.S. We encourage all Zen students as well as anyone interested in the contemplative arts to engage this special training. The retreat accommodates both beginners and intermediate Kyudo students. Traditional handcrafted yumi as well as other necessary equipment are provided.
Teacher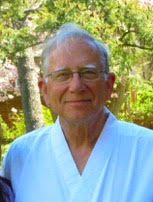 Don Symanski
Don Symanski is a longtime friend of the Monastery and a warm, skillful teacher. He began the study of Kyudo with Kanjuro Shibata Sensei in 1980. He instructs in the Hekiryu Bishu Chikurinha form of Kyudo. Don apprenticed in bow making with Shibata Sensei's son, Nobuhiro Shibata, in Kyoto. Since 1991, he has made yumi for Kyudo students and taught students the proper use of the yumi and Kyudo as a meditation path.
Learn more about Don Symanski