Weekend Sesshin
with Geoffrey Shugen Arnold, Roshi
July 12 - 14, 2019
The weekend sesshin is perfect for those who want an introduction to sesshin practice or for more experienced practitioners who are unable
to attend the longer retreats.
Characterized by silence and deep introspection, sesshin is recommended to anyone who is sincerely interested in experiencing intensive Zen training. We wake up each day before dawn to begin a schedule that includes 7 to 10 hours of zazen, chanting services, formal silent meals in the zendo (oryoki), silent work practice and talks by the teacher and senior students. Sesshin is an opportunity to receive personal guidance in private interviews with the teacher, draw from the tremendous strength of people practicing together and experience the deep stillness that lies within each one of us.
Because sesshin is a very intensive retreat, those wishing to attend should first complete an Introduction to Zen Training Retreat.
Please don't let financial issues prevent you from attending a program at the Monastery. If you can't afford the program fee, there are options.
Teacher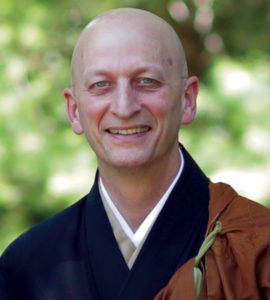 Geoffrey Shugen Arnold, Roshi
Geoffrey Shugen Arnold, Roshi is the Head of the Mountains and Rivers Order, abbot and resident teacher of Zen Mountain Monastery, and abbot of the Zen Center of New York City. Shugen Roshi has been in full-time residential training since 1986; he received dharma transmission from Daido Roshi in 1997. His teachings have appeared in various Buddhist journals, The Best Buddhist Writing 2009, and his first book, O, Beautiful End, a collection of Zen memorial poems, was published in 2012.
Learn more about Geoffrey Shugen Arnold, Roshi