Moving into Stillness: Running as Meditation
with Vanessa Zuisei Goddard, Sensei
June 21 - 23, 2019
[The Tarahumara] remembered that running was mankind's first fine art, our original act of inspired creation.
—Christopher McDougall, Born to Run
Running for exercise is a relatively new discipline, yet humans have practiced long-distance running for about 50,000 years, and these days running is more popular than ever. In 2018 alone, over 110,000 million people in the U.S. said they run on a regular basis, and their reasons are varied. There's running as sport, for weight loss, as therapy, or as a palliative. But is it possible to also see running as moving meditation—as a way to deeply study our body and mind, to be fully present to ourselves and the wonder of our humanity?
In this retreat, we'll use running as our focus to look at the dynamic dance between stillness and movement. Immersed in our hectic lives, how can we remain awake and grounded? Seated meditation is a powerful way to cultivate wakefulness, but by itself it's not enough. We must take the next step and bring the stillness and clarity of our meditation into all aspects of our lives.
We'll look at posture, breath, and concentration to see how we can run faster, longer, or more frequently without getting injured (regardless of your current fitness level). We'll discuss intention, commitment, discipline, and the obstacles that get in the way of keeping up a consistent practice. We'll
engage exercises that will help us remain embodied and connected, both to our physicality and to our changing thoughts and emotions. Finally we'll practice running as a form of moving meditation that is both accessible and deeply nourishing.
Previous experience is helpful but not critical. Please bring running clothes, shoes, a digital watch, and a water bottle.
Please don't let financial issues prevent you from attending a program at the Monastery. If you can't afford the program fee, there are options. 
Teacher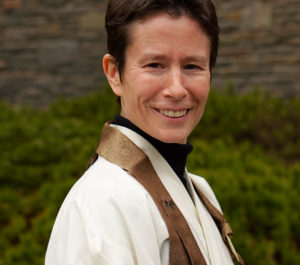 Vanessa Zuisei Goddard, Sensei
Vanessa Zuisei Goddard, Sensei was in full-time residential training at the Monastery from 1995 to 2014, fourteen of those years as a monastic. She's now a lay teacher in the MRO, as well as the Work Supervisor at Zen Mountain Monastery. Additionally, for many years she's run our popular youth programs, impressing the value of mindfulness, kindness, and silence on young children and teens.
Learn more about Vanessa Zuisei Goddard, Sensei