Precepts Mondo
with Geoffrey Shugen Arnold, Roshi
February 7, 2019
The moral and ethical teachings of the Buddha touch every area of our lives. The extent to which these principles permeate our relationships and actions is enhanced by our understanding of them. This new series of Q&A style monthly mondos features MRO teachers facilitating open discussions about the Ten Grave Precepts as they relate to lay practice.
---
The Precepts Mondos offer an opportunity to work more informally with the MRO teachers and are open to all practitioners.
Suggested donation $10-$15.
Teacher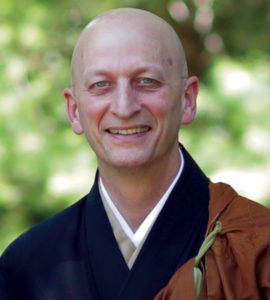 Geoffrey Shugen Arnold, Roshi
Geoffrey Shugen Arnold, Roshi is the Head of the Mountains and Rivers Order, abbot and resident teacher of Zen Mountain Monastery, and abbot of the Zen Center of New York City. Shugen entered full-time residential training in 1986 after studying mathematics and receiving a degree in classical music. He received dharma transmission from John Daido Loori, Roshi in 1997. His teachings on Zen, social justice and environmental stewardship have appeared in various Buddhist journals, and The Best Buddhist Writing 2009 (Shambhala Publications). His book of poetry, O, Beautiful End, a collection of Zen memorial poems, was published in 2012.
Learn more about Geoffrey Shugen Arnold, Roshi