Precepts Mondo
with Jody Hojin Kimmel, Sensei
March 20, 2019
Honor the body; Do not misuse sexuality
The moral and ethical teachings of the Buddha touch every area of our lives. The extent to which these principles permeate our relationships and actions is enhanced by our understanding of them. This new series of Q&A style monthly mondos features MRO teachers facilitating open discussions about the Ten Grave Precepts as they relate to lay practice.
---
The Precepts Mondos offer an opportunity to work more informally with the MRO teachers and are open to all practitioners.
Suggested donation $10-$15.
Teacher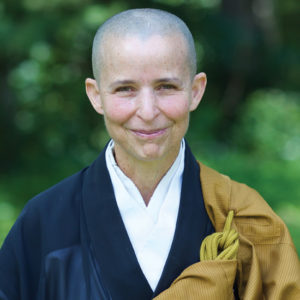 Jody Hojin Kimmel, Sensei
A Zen priest, Jody Hojin Kimmel, Sensei received transmission of the Precepts from Daido Roshi, who began the process in 2009, and from Shugen Roshi, who completed the transmission in 2012. In 2017, she received full dharma transmission from Shugen Roshi. She currently serves as MRO Director of Training and co-Director of the Zen Center of NYC. Before entering the Monastery in 1990, Hojin Sensei studied fine art and trained under legendary ceramicist Toshiku Takaezu, among others. Over the years she has taught drawing, ceramics, and painting, and continues to teach on the creative process within the Mountains and Rivers Order.
Learn more about Jody Hojin Kimmel, Sensei