Sangha Treasure Weekend
with Geoffrey Shugen Arnold, Roshi
May 10 - 12, 2019
Being one with the Sangha, with all sentient beings, lead the people. Let harmony pervade everywhere. —Fusatsu ceremony liturgy
This Sangha Treasure meeting is for both formal students and those who consider themselves to be active members of the MRO sangha.
Friday will include a Fusatsu (Renewal of Vows) Ceremony and Saturday will include a Sangha Treasure meeting with small group sharing. We'll cap the weekend off with Jukai on Sunday morning. You are welcome to come for the whole weekend or just parts.
For many Buddhist practitioners, sangha—the community of fellow practitioners—presents the greatest challenge and opportunity for practice and training. The "other" is always the greatest threat to the self—as well as the most effective mirror, the most poignant barrier and the most potent gateway to freedom.
We'll be following the Monastery schedule for the weekend and on Saturday we'll meet both as a large group and within smaller groups to examine how the sangha can support our practice. For, in the end, it is only within the sangha that we can realize our deepest intentions of clarity and compassion. 
The weekend is by donation.
Teacher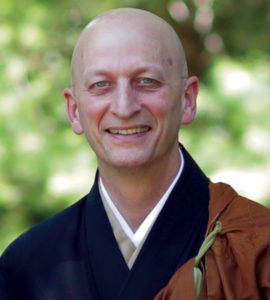 Geoffrey Shugen Arnold, Roshi
Geoffrey Shugen Arnold, Roshi is the Head of the Mountains and Rivers Order, abbot and resident teacher of Zen Mountain Monastery, and abbot of the Zen Center of New York City. Shugen Roshi has been in full-time residential training since 1986; he received dharma transmission from Daido Roshi in 1997. His teachings have appeared in various Buddhist journals, The Best Buddhist Writing 2009, and his first book, O, Beautiful End, a collection of Zen memorial poems, was published in 2012.
Learn more about Geoffrey Shugen Arnold, Roshi