Essentials of Zen – Entering the Path
with Mn. Shoan Ankele
May 2, 2019
In this seminar we will explore the important aspects of any genuine spiritual path, as well as  Zen Buddhism in particular. The desire to seek the Buddhist path arises from a deep internal impulse to find a deeper sense of truth in one's life. This may be experienced in many ways, and can be both exciting and unsettling. In this seminar we'll explore the spiritual journey, particularly in its early phases as one takes up the practice of meditation and self-inquiry.
We'll also discuss common experiences and questions that arise when one encounters Buddhist practice and teachings and begins practicing at home, as well as within the context of a training center. We will also examine traditional aspects of Zen training such as studying with a teacher, the practice of liturgy and academic study, and the benefits of practicing with a sangha, the community of practitioners.
There will be plenty of time for questions, and refreshments will be served.
The Essentials of Zen seminars offer an opportunity to work more informally with some of the MRO seniors and teachers. They are particularly geared towards those newer to practice, but are open to all practitioners.
This seminar is by donation.
Teacher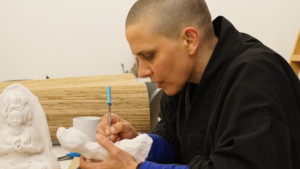 Mn. Shoan Ankele
Danica Sensui Shoan Ankele is a Senior Monastic in the Mountains and Rivers Order. She has been in full time residential training since 2007 and ordained with Shugen Roshi in 2014. In addition to her work in the Training Office alongside Hojin Sensei, Shoan has also been heavily involved in the Monastery's Tenkozan line of ZMM-made products, including statues and cloth items dyed with plants cultivated on the Monastery grounds.
Learn more about Mn. Shoan Ankele