Aging and Awakening to Our Life
with Rev. Trudi Jinpu Hirsch-Abramson
June 22, 2019
"Aging" is just a word — quite a powerful word, but it can carry with it, many burdens, regrets, and fears. Together, we'll reexamine this word, what it brings up for each of us and how it may be viewed through a number of different lenses.
During this retreat, we will journey into how this latter part of our life can blossom into a time of reflection and awakening, rather than clinging to old fears. We'll look at ways in which we can recreate our life into a more nourishing, fulfilling and "joyous" existence. Through the exploration of the old patterns, we can examine the elements of our past that can make our life feel repetitive, apathetic and possibly even depressing.
Understanding that each day we are moving toward our death can create an urgency we can use to help us fully step into our life, instead of running away or giving up.
In this experiential workshop we will be offered the opportunity to face our fears, as well as envision what we might want to manifest now and during our time left on this planet.
As Zen Buddhist chant at the end of each day:
Let me respectfully remind you
Life and Death are of supreme importance
Time swiftly passes by and opportunity is lost
Each of us must strive to awaken,
Awaken
Take heed…do not squander your life!
We strive to keep our retreat prices low and offer these programs on a sliding scale. It's important that the dharma is available to everyone. Thank you for your continued support.
No deposit is necessary to register. You can pay the full balance at the door by cash, check or credit card.
Teacher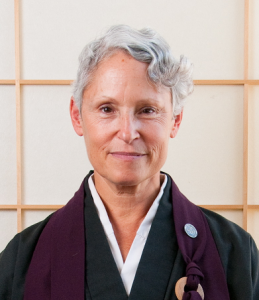 Rev. Trudi Jinpu Hirsch-Abramson
The Reverend Trudi Hirsch-Abramson is an ACPE certified chaplain supervisor and an APC certified chaplain. A resident of Zen Mountain Monastery for 12 years, she completed her monastic training in 1998 and was ordained as a Zen Buddhist Priest and received Denkai transmission in the White Plum Sangha. She previously worked for 14 years as a chaplain and supervisor at various hospitals in New York City. For nearly a decade, Reverend Hirsch served as a faculty member and Chaplain Supervisor for the New York Zen Center for Contemplative Care in NYC. She is presently the chaplain supervisor at Vassar Hospital in Poughkeepsie, NY.
Learn more about Rev. Trudi Jinpu Hirsch-Abramson