Way of Seeing: An Introduction to Nalanda Miksang Contemplative Photography
with Ray Eigen Ball
July 6, 2019
"…What and how we see are intricately interwoven with our conditioning…we must see the subject fresh, new, in the moment of the shutter's release. If we are awake to all that, then we experience a sense of completion. The circle closes."
— John Daido Loori, Roshi
Spend a day learning about and practicing the art of contemplative photography; the art of synchronizing the eye and mind. When eye and mind are in the same place, the moment by moment vividness of the visual world manifests and is appreciated fully. This manifestation is spontaneous—a "flash of perception"—the ordinary magic of the phenomenal world. When one connects with pure perception there is no struggle in making a heartfelt and brilliant photographic image that one can share with others.

These moments of pure perception and appreciation happen all the time, but we often ignore and devalue them. However, it is worthwhile to recognize and cultivate these moments because they recollect the inherent openness and goodness of our being.
The first level of training purifies our visual perception by working directly with the elements or forms of the visual field: color, light and form (texture, lines and patterns), space and dot-in-space. In this level we also attend to the "flash of perception" which discloses a direct presentation of the phenomenal world. In this phase of the training we explore the contrast of perception versus conception. Due to the limited duration of this workshop, we'll focus on a couple of these forms as an entry-point to the process and practice known as "Miksang" contemplative photography. (Miksang is a Tibetan word that translates as 'Good Eye.')
No photographic experience or knowledge is required, although you will need a (point & shoot) digital camera or cell phone.
We strive to keep our retreat prices low and offer these programs on a sliding scale. It's important that the dharma is available to everyone. Thank you for your continued support.
No deposit is necessary to register. You can pay the full balance at the door by cash, check or credit card.
Teacher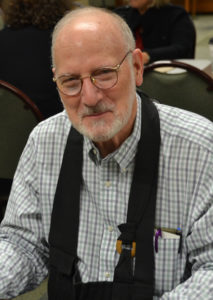 Ray Eigen Ball
Ray Eigen Ball studies contemplative photography in the Nalanda Miksang tradition, which arose in the Shambhala Buddhist tradition in the 1980s, with John McQuade and Miriam Hall, authors of "Looking and Seeing" and "Heart ofPhotography" — the two-volume Way of Seeing series. Eigen has been a Zen student in the Mountains and Rivers Order since 2001, and is the Coordinator of the MRO Affiliate group in Buffalo, NY, where he has taught Miksang photography, as well as at Karmê Chöling, the Shambhala Meditation Center in Vermont. A sample of Eigen's work can be found here: https://www.buffalomiksang.org/rays-gallery.html
Learn more about Ray Eigen Ball