Zen Essentials — Practicing Your Life at Work
with Mn. Shoan Ankele
August 29, 2019
One of the most challenging, dynamic, and potentially satisfying realms of modern lay practice is the workplace. Today's practitioners are in virtually every work place of contemporary life. Some of these environments can be very supportive and conducive to the study of the self, while others can seem downright hostile to a path of wisdom and compassion. Made potent with societal notions of self-identity and self-worth, as well as the hard realities of making a living in a competitive and ambitious culture, the workplace raises important questions and issues about how to understand and practice work from the perspective of Buddhist teachings and the Precepts. We'll examine such subjects as money, success and failure, stress, competition and ambition, working with people and Buddhist ethics.
This seminar will offer participants practical guidance on how to begin exploring one's work as an aspect of Zen practice. As with all the Essentials seminars, there will be ample time for questions, allowing participants to look, in specific ways, a their own situations and gain better understanding about the opportunities that are available to them as they continue to bring Buddhist practice more fully into their everyday lives.
Refreshments will be served.
---
The Essentials of Zen seminars offer an opportunity to work more informally with some of the MRO seniors and teachers. They are particularly geared towards those newer to practice, but are open to all practitioners.
Suggested donation $10-$15.
Teacher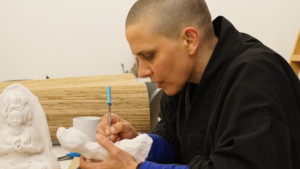 Mn. Shoan Ankele
Danica Shoan Ankele is a Senior Monastic in the Mountains and Rivers Order. She has been in full time residential training since 2007 and ordained with Shugen Roshi in 2014. Shoan is the Monastery's Creative Director and Training Coordinator, and is also involved in the Monastery's Tenkozan line of ZMM-made products, including statues and cloth items dyed with plants cultivated on the Monastery grounds.
Learn more about Mn. Shoan Ankele