Roundtable Discussion on Ecodharma
with David Loy
November 23, 2019
David Loy, author of Ecodharma: Buddhist Teachings for the Ecological Crises, will lead a roundtable discussion exploring how Buddhism can address our global ecological crises, climate change and increasing degradation of the natural world. Participants will be encouraged to read suggested excerpts from David's writings in Ecodharma and related articles to allow discussion to reach deeply into these all-important topics.
Limited to a maximum of 20.
Please register by November 15th.  Participants will be sent links to the readings on Nov 16th.
Event runs from 4-6pm.
Teacher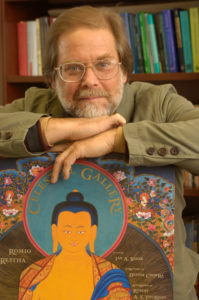 David Loy
David R. Loy, PhD, is a professor of Buddhist and comparative philosophy, a prolific writer, and a teacher in the Sanbo Zen tradition of Japanese Buddhism. His books include Money Sex War Karma, A New Buddhist Path, and most recently Ecodharma: Buddhist Teachings for the Ecological Crisis. He is especially concerned about social and ecological issues. In addition to offering workshops and meditation retreats, he is one of the founders of the new Rocky Mountain Ecodharma Retreat Center, near Boulder, Colorado. To learn more about David Loy please visit his website: http://www.davidloy.org/
Learn more about David Loy