Zazenkai – December
with Geoffrey Shugen Arnold, Roshi
December 21, 2019
Zazenkai presents an opportunity each month, to return to the well of introspection and committed Zen practice. The extended schedule includes periods of zazen, liturgy, a face-to-face interview with a teacher, a formal talk and oryoki lunch (formal meal served in the zendo). Zazenkai is an important way for experienced students to further their practice and for newer students to take a preparatory step toward the practice of sesshin.
We strive to keep our retreat prices low and offer these programs on a sliding scale. It's important that the dharma is available to everyone. Thank you for your continued support.
No deposit is necessary to register. You can pay the full balance at the door by cash, check or credit card.
Teacher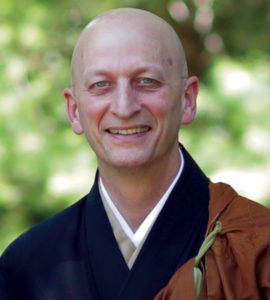 Geoffrey Shugen Arnold, Roshi
Geoffrey Shugen Arnold, Roshi is the Head of the Mountains and Rivers Order, abbot and resident teacher of Zen Mountain Monastery, and abbot of the Zen Center of New York City. Shugen entered full-time residential training in 1986 after studying mathematics and receiving a degree in classical music. He received dharma transmission from John Daido Loori, Roshi in 1997. His teachings on Zen, social justice and environmental stewardship have appeared in various Buddhist journals, and The Best Buddhist Writing 2009 (Shambhala Publications). His book of poetry, O, Beautiful End, a collection of Zen memorial poems, was published in 2012.
Learn more about Geoffrey Shugen Arnold, Roshi