Lawrence Shainberg Book Reading
with Lawrence Shainberg
October 5, 2019
Author Lawrence Shainberg reads from his new book Four Men Shaking, a followup to the memoir Ambivalent Zen. Check out our podcast interview with Larry that we recorded in August.
"Inexplicably good karma"—to this, author Lawrence Shainberg attributes a life filled with relationships with legendary writers and renowned Buddhist teachers. In Four Men Shaking he weaves together the narratives of three of those relationships: his literary friendships with Samuel Beckett and Norman Mailer, and his teacher-student relationship with the Japanese Zen master Kyudo Nakagawa Roshi. In Shainberg's lifelong pursuit of both writing and Zen practice, each of these men shaped his experience. The audacious, combative Mailer comes to represent, for Shainberg, the Buddhist concept of "form," while the elusive and self-deprecating Beckett seems to embody an awareness of "emptiness." Through it all is Nakagawa, the earthy, direct Zen master challenging Shainberg to let go of his endless rumination and accept reality as it is.
Refreshments and conversation will follow the reading.
To find out more click here:   https://www.lawrenceshainberg.com/books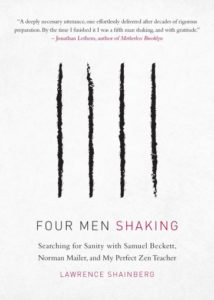 Teacher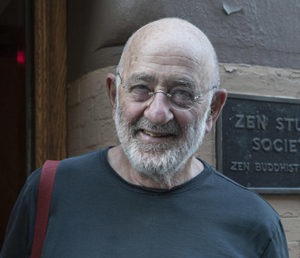 Lawrence Shainberg
Lawrence Shainberg's books include Four Men Shaking, Ambivalent Zen, Brain Surgeon: An Intimate View of His World, and the novels Memories of Amnesia and One on One. He has numerous essays published in the New York Times Magazine, Harper's, the Village Voice, and a Pushcart Prize-winning monograph on Samuel Beckett published in The Paris Review. He was born in Memphis, Tennessee. He now makes his home in New York City and Truro, Ma.
Learn more about Lawrence Shainberg