The Buddhist Unconscious: Yogācāra Buddhism and How It Illuminates Bias
with William Waldron
February 14 - 16, 2020
Everything we know about our world comes through our senses and perceptions. Things seem to just appear as true, yet when we examine closely, we see that consciousness mixes each object with a lifetime of ideas, beliefs, experiences and associations. What then is true? We all harbor deep-seated underlying assumptions that lead us to automatically but unconsciously pigeon-hole the people we meet. These patterns are difficult to even notice let alone intentionally change. When we become angry or impatient with a situation, is our anger based in what is actually occurring or our karmic mind's imputations? When we see someone different from ourselves and we instantly react with fear or trust, disdain or respect, where does that reaction originate and how can we free ourselves?
Yogacara Buddhist ideas—which are a major influence in Zen—arose in 4-5th century India, and profoundly examine the nature of mind, consciousness, and perception as it relates directly to practice and enlightenment. In particular, and deeply relevant to so many of the troubles in our world today, Yogacara's teaching of the "store-house consciousness" (ālaya-vijñāna) and "afflicted-egocentricity" (kliṣṭa-manas), can help us see how we, collectively but unconsciously, construct our social worlds. This has significant implications for dharma practitioners dedicated to freeing ourselves and others from suffering, especially as it relates to the many forms of bias, implicit and explicit.
In this retreat, we will explore these significant and fascinating perspectives on consciousness and perception, and reflect on how they can both challenge and help us appreciate the power of our karma, and our ability through practice to effect profound change.
Please don't let financial issues prevent you from attending a program at the Monastery. If you can't afford the program fee, there are options. 
Artwork: "100 Arhats" by Takahashi Murakami (2013)
Teacher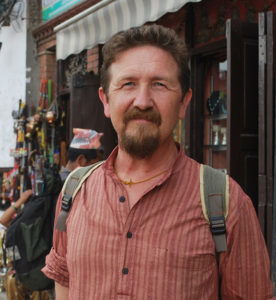 William Waldron
Bill Waldron teaches courses on Buddhism and psychology at Middlebury College, Vt., and intermittently at Rang-jung Yeshe Institute in Kathmandu, Nepal. His work focuses on the classical Yogacara school of Indian Buddhism in dialogue with modern thought. His book, The Buddhist Unconscious: The Ālaya-vijñāna in the Context of Indian Buddhist Thought, was published in 2003. His introduction to Yogācāra Buddhist cognitive theory is forthcoming. Get to know his work by visiting this link.
Learn more about William Waldron