Mother of All Buddhas – Women's Zazenkai
with Jody Hojin Kimmel, Sensei
March 21, 2020
A  Retreat for those who self identify as Women
A special meditation intensive led by Hojin Sensei, Mother of All Buddhas Zazenkai is a chance for those who identify as women to practice this ancient form of zen training within the uniquely supportive environment of an all-women practice community.
Zazenkai presents us with an opportunity to return to the well of introspection and committed Zen practice. The day includes an extended schedule of zazen, liturgy, face-to-face interview with a teacher, a formal talk and oryoki lunch (formal meal served in the zendo). Zazenkai is an important way for experienced students to further their practice and for newer students to take a preparatory step toward the practice of sesshin.
We strive to keep our retreat prices low and offer these programs on a sliding scale. It's important that the dharma is available to everyone. Thank you for your continued support.
No deposit is necessary to register. You can pay the full balance at the door by cash, check or credit card.
Teacher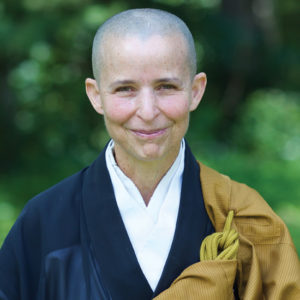 Jody Hojin Kimmel, Sensei
A Zen priest, Jody Hojin Kimmel, Sensei received transmission of the Precepts from Daido Roshi, who began the process in 2009, and from Shugen Roshi, who completed the transmission in 2012. In 2017, she received full dharma transmission from Shugen Roshi. She currently serves as MRO Director of Training and co-Director of the Zen Center of NYC. Before entering the Monastery in 1990, Hojin Sensei studied fine art and trained under legendary ceramicist Toshiku Takaezu, among others. Over the years she has taught drawing, ceramics, and painting, and continues to teach on the creative process within the Mountains and Rivers Order.
Learn more about Jody Hojin Kimmel, Sensei