One Dharma: Perfection and Imperfection
with Ron Hogen Green, Sensei
April 4, 2020
What is perfection? What is imperfection? Sometimes in Buddhism we speak of our imperfections and delusions, yet will also say that delusion and enlightenment are one. How can this be? How do you understand your imperfections, your mistakes, your delusion? How do you understand your wholeness, your original completeness?
In the first part of this interactive Zoom class we will focus on our imperfections, exploring what imperfection is to you, in the specifics of your life. In the second half, we will take up our perfection, examining what that means in the context of your life.
There will be time set aside after each section to offer and share what we have discovered: the questions that have arisen, as well as the insights and discoveries.
We strive to keep our retreat prices low and offer these programs on a sliding scale. It's important that the dharma is available to everyone. Thank you for your continued support.
Your registration confirmation will include a link to the Zoom session.
Donations are appreciated to help support our efforts during this time.
Teacher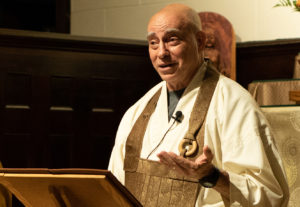 Ron Hogen Green, Sensei
Hogen Sensei has been engaged in formal Zen practice since 1978, and was in residential training at the Monastery for twelve years before returning to lay life in 2007. He shares his time between the Zen Center of NYC and rural Pennsylvania, where he lives with his family. Hogen received dharma transmission from Shugen Roshi in 2016.
Learn more about Ron Hogen Green, Sensei