Healing the Vicious Cycle of Addiction: A Dharmic Way to Interrupt the Cycle
with Valerie (Vimalasara) Mason-John
April 17 - 19, 2020
Addiction, compulsion, dependence, obsession, craving, infatuation—whatever you want to call it, you know it when you're in it. Thoughts can be addicting, just like eating, drinking, shopping, or gambling, a fact the Buddha understood well. Luckily (or unluckily, depending on how you look at it), people haven't changed much in 2,500 years. The teachings of the Eightfold Path are still useful, dependable lessons, available to help the ordinary person step out of the cycle of samsara and addiction. In this retreat, Vimalasara (Valerie Mason-John), chair of the Triratna Vancouver Buddhist Centre and president of the Buddhist Recovery Network, will illuminate how the Buddhist teachings can relieve you of your own addictions. Through guided meditations, liturgy and other forms of Buddhist practice, Vimalasara will uncover the sources of our craving and how to address this suffering to break the habitual patterns of addiction and the suffering caused by addiction.
The weekend will unfold within the context of Zen Mountain Monastery's Catskill cloister. We'll rise at dawn for morning meditation, share communal vegetarian meals with ZMM residents and monastics, practice caretaking each morning to prepare the day, and enjoy the walking paths and natural beauty of Mount Tremper.
Please don't let financial issues prevent you from attending a program at the Monastery. If you can't afford the program fee, there are options.
We also encourage everyone to use our Rideshare program to either arrange or offer rides to and from the Monastery.
Teacher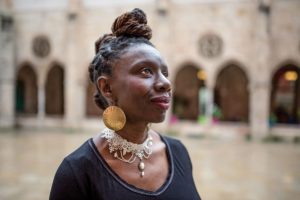 Valerie (Vimalasara) Mason-John
Dr. Valerie (Vimalasara) Mason-John, M.A (hon.doc) is the award-winning author of 8 books, and the co-author and co-founder of Eight Step Recovery: Using The Buddha's Teaching to Overcome Addiction, which won the Best USA Book Award 2014 and Best International Book Award 2015 in the self-motivational and self-help category. Eight Step Recovery offers an alternative to the 12-step program for addiction. Also known as Vimalasara, she was ordained into the Triratna Buddhist Community and is a senior teacher in this tradition. She is the chairperson of the Triratna Vancouver Buddhist Centre in British Columbia, Canada, and leads and co-leads retreats both nationally and internationally. Check out this interview Vimalasara gave about Buddhist Recovery from Lion's Roar magazine. Find out more by visiting valeriemason-john.com
Learn more about Valerie (Vimalasara) Mason-John