Cultivating the Qualities of Jizo Bodhisattva
with Jan Chozen Bays
June 19 - 21, 2020
We are so pleased to welcome Chozen Roshi back to ZMM for this important retreat, timed to coincide with the building of our new Jizo House across from the Monastery's garden.
A bodhisattva is a spiritual pilgrim who dedicates their life to helping free others from the suffering caused by fear and ignorance, and to helping them see their own wise and courageous enlightened nature. The bodhisattva path always starts with our own practice. If our mind is confused and anxious, if we are avoiding facing our own pain, our efforts to help others will also be confused and strained. As we become free, we naturally turn toward freeing others. We do not worship bodhisattvas. Rather we look to them as a source of inspiration for practice.
Jizo's qualities include unflagging optimism, courage, and gentleness, and a nurturing love for all beings. Jizo plunges fearlessly into any place or situation to help those in need. Jizo is especially concerned with taking care of those who are vulnerable, and many stories tell of Jizo helping children who have died overcome the trials that face them in the transition between life and death. Jizo also has a special relationship with women who have lost children.
During this retreat we will investigate and cultivate the qualities of Jizo Bodhisattva. Our practices will include meditating with the benevolent eyes, heart and hands of a Jizo Bodhisattva, chanting the Jizo mantra in several different languages, walking mindfully with awareness of the path of pilgrimage, creating Jizo art infused with prayers for peace, and investigating the qualities of great determination (never giving up), fearlessness (when we are aware of our inter-being there is no "other" to fear) and optimism (no lost causes).
Because our sincere practice supports the practice of others, because others are inspired to see us working hard to overcome obstacles, our own practice is the first aspect of the bodhisattva vow. As our own mind/hearts become clear we are able to see what is appropriate to do (or not to do) to best help others.
Please don't let financial issues prevent you from attending a program at the Monastery. If you can't afford the program fee, there are options. 
Teacher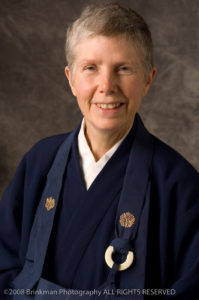 Jan Chozen Bays
Jan Chozen Bays, Roshi has studied and practiced Zen Buddhism since 1973. She received Jukai (lay precepts) in 1975 and priest's ordination in 1979 from Taizan Maezumi, Roshi. From 1978 to 1983 she lived at the Zen Center of Los Angeles, studying with Maezumi Roshi and directing the Zen Center's non-profit Medical Clinic. She finished formal koan study in 1983 and was given Dharma transmission (authorization to teach) that same year. Since 1985 Chozen Roshi has been the teacher for the Zen Community of Oregon. In 2002 she helped to found Great Vow Zen Monastery and is the co-abbot. In 2011 she also helped found Heart of Wisdom Zen Temple in Portland, Oregon. She has published many articles about Zen in the periodicals Tricycle and Buddhadharma. Her first book, Jizo Bodhisattva, Modern Healing and Traditional Buddhist Practice (Tuttle, 2002), has been re-issued in paperback as Bodhisattva, Guardian of Children, Women and Other Voyagers (Shambhala). She is the author of How to Train a Wild Elephant: And Other Adventures in Mindfulness (Shambhala, 2011), and Mindful Eating: A Guide to Rediscovering a Healthy and Joyful Relationship with Food (Shambala, 2011). Chozen Roshi is also a pediatrician and world-renowned child abuse consultant, mother…
Learn more about Jan Chozen Bays