Investigating Wonder: Taking Up the Faith Mind Poem Through Art Practice with Hojin Sensei
with Jody Hojin Kimmel, Sensei
May 8 - 10, 2020
Inquiry, questioning, and wonder are not only states of mind emphasized Zen training. This can be how we live. The creative process is to pass through the doorway of the known to the unknown; to allow ourselves to be 'lost'; wander in new lands; get inside of the journey and dare to be our usual self. In this way the creative process can break the masks of learned behavior and reveal the inexplicable.
In this retreat we will look at the teachings of the Faith Mind Poem and take up the practice of no preferences. To allow anything to appear whether it be strange, awkward, sexual, dark, chaotic, or beautiful. All of it is free to come and go unfettered, carrying with them the full range of thought and feeling. Through this process we may just find where the real creativity takes place because our whole being wants it and asks to be itself again.
Please don't let financial issues prevent you from attending a program at the Monastery. If you can't afford the program fee, there are options. 
Teacher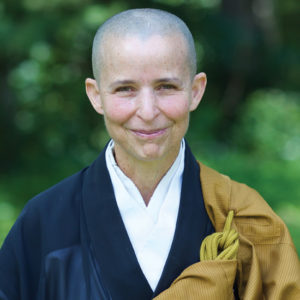 Jody Hojin Kimmel, Sensei
A Zen priest, Jody Hojin Kimmel, Sensei received transmission of the Precepts from Daido Roshi, who began the process in 2009, and from Shugen Roshi, who completed the transmission in 2012. In 2017, she received full dharma transmission from Shugen Roshi. She currently serves as MRO Director of Training and co-Director of the Zen Center of NYC. Before entering the Monastery in 1990, Hojin Sensei studied fine art and trained under legendary ceramicist Toshiku Takaezu, among others. Over the years she has taught drawing, ceramics, and painting, and continues to teach on the creative process within the Mountains and Rivers Order.
Learn more about Jody Hojin Kimmel, Sensei