What is most important? Tending to the Way-Seeking Mind
with Mn. Gokan Bonebakker
May 16, 2020
The Indian master Shantideva said we should rejoice in our aspiration to awaken. It is our great good fortune to have encountered the Dharma, to have access to teachers, and to have a desire to practice. But having aroused bodhicitta – the mind that seeks enlightenment – how do we bring our lives into alignment with our aspiration? And having set out on the path – whether we've been practicing for years or just taken a few first steps – how do we keep our aspiration fresh and alive?
In this retreat we will draw guidance from classical teachings on bodhicitta, engage in guided self-reflection, do zazen, and have time for discussion.
We strive to keep our retreat prices low and offer these programs on a sliding scale. It's important that the dharma is available to everyone. Thank you for your continued support.
No deposit is necessary to register. You can pay the full balance at the door by cash, check or credit card.
Teacher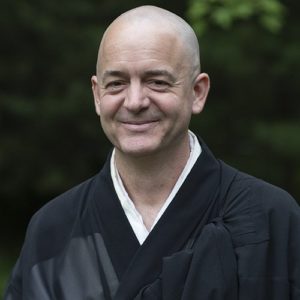 Mn. Gokan Bonebakker
Bear Gokan Bonebakker first came to the Monastery in 1994, and has been in residence since 2007. He was ordained in 2014. Gokan is the Operations Director, helps coordinate the National Buddhist Prison Sangha, and works in the orchard.
Learn more about Mn. Gokan Bonebakker