Wild Grasses Sesshin: A Meditation Intensive for Women (Self-Identified)
with Jody Hojin Kimmel, Sensei
September 10 - 13, 2020
A Sesshin for those who self identify as Women 
A special meditation intensive led by Hojin Sensei, Wild Grasses Sesshin is a chance for those who identify as women to practice this ancient form of zen training within the uniquely supportive environment of an all-women practice community.
Characterized by silence and deep introspection, sesshin is recommended to anyone who is sincerely interested in experiencing intensive Zen training. We wake up each day before dawn to begin a schedule that includes 7 to 10 hours of zazen, chanting services, formal silent meals in the zendo (oryoki), work practice and talks by the teacher and senior students. This sesshin will offer an opportunity to draw from the tremendous strength of people practicing together and experience the deep stillness that lies within each one of us.
Participants may begin this sesshin on Thursday or Friday evening. Because sesshin is a very intensive retreat, those wishing to attend should first complete an Introduction to Zen Training Retreat or have participated in sesshins at another Zen center. Those who have never participated in sesshin before, or who are newer to Zen practice, should plan on beginning with the Friday-Sunday portion of the retreat. First-time sesshin participants should call the Training Office to set up a "sesshin interview" as part of the registration process.
Please don't let financial issues prevent you from attending a program at the Monastery. If you can't afford the program fee, there are options.
Teacher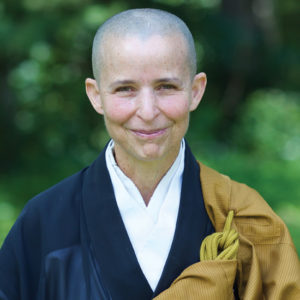 Jody Hojin Kimmel, Sensei
A Zen priest, Jody Hojin Kimmel, Sensei received transmission of the Precepts from Daido Roshi, who began the process in 2009, and from Shugen Roshi, who completed the transmission in 2012. In 2017, she received full dharma transmission from Shugen Roshi. She currently serves as MRO Director of Training and co-Director of the Zen Center of NYC. Before entering the Monastery in 1990, Hojin Sensei studied fine art and trained under legendary ceramicist Toshiku Takaezu, among others. Over the years she has taught drawing, ceramics, and painting, and continues to teach on the creative process within the Mountains and Rivers Order.
Learn more about Jody Hojin Kimmel, Sensei