Being the Bowl: A Clay Retreat with Raku Firing
with Jody Hojin Kimmel, Sensei
July 8 - 12, 2020
A multi-day adventure in zazen, clay, painting and mark-making with a palette of colors foraged here on Mt Tremper and from the nearby Esopus River. We'll begin with a simple technique of forming clay bowls by hand.
Continuing our exploration, we will delve into various materials to enhance our connection to being the bowl. The work will finally be glazed and fired by participants in a joyful and wondrous spontaneous 600-year-old traditional Japanese firing known as raku. (Translated as "relaxed ware") This retreat will be assisted by Yosha Scott Childress. Register early as there is limited enrollment and this retreat tends to fill quickly.
Teacher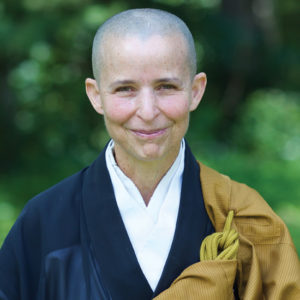 Jody Hojin Kimmel, Sensei
A Zen priest, Jody Hojin Kimmel, Sensei received transmission of the Precepts from Daido Roshi, who began the process in 2009, and from Shugen Roshi, who completed the transmission in 2012. In 2017, she received full dharma transmission from Shugen Roshi. She currently serves as MRO Director of Training and co-Director of the Zen Center of NYC. Before entering the Monastery in 1990, Hojin Sensei studied fine art and trained under legendary ceramicist Toshiku Takaezu, among others. Over the years she has taught drawing, ceramics, and painting, and continues to teach on the creative process within the Mountains and Rivers Order.
Learn more about Jody Hojin Kimmel, Sensei