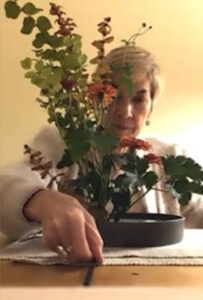 Marcia Shibata began her study of Ikebana and the Way of the Buddha on nearly the same day in 1974. She was introduced to both disciplines by her teacher Chögyam Trungpa, who, in addition to being a scholar, meditation master, and Dharma teacher, was skilled in many arts, including calligraphy, poetry, ikebana, photography, and traditional Tibetan painting and dance.
From 1980 to 1985 Marcia lived in Japan studying Ikebana, tea ceremony, Kyudo, and Japanese language and culture, and maintained close ties to Japan for the next 6 years. She has taught Ikebana in the US and Europe since 1983, and is currently establishing a fresh school of  Kado-Ikebana and Dharma practice in Hamburg, Germany and in San Miguel de Allende, Mexico.
We are grateful to be able to host Marcia at Fire Lotus Temple. Don't miss the rare opportunity to study with a Master!