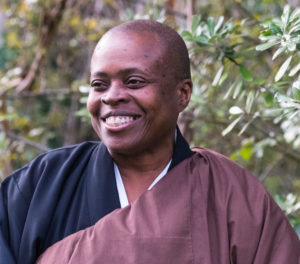 Zenju Earthlyn Manuel is an author, ordained Zen Buddhist priest, teacher, seer, poet, artist, and drum medicine woman. She is guided by deep intuition and through her capacity for lucid dreaming. The essence of all her transmissions come together in her talks and books.
Zenju Earthlyn Marselean Manuel, was born in Los Angeles, California to  parents that migrated from Louisiana. She was raised with a younger and older sister, in the Church of Christ where she was an avid reader of the Bible and adored the true teachings on Christ's path well into adulthood.
For a brief time she attended ceremonies with a tribe/family of diviners from Dahomey. After 15 years in the Nichiren tradition/Soka Gakkai, she eventually followed the path of Soto Zen for many more years and was ordained as a Zen Buddhist priest in the Suzuki Roshi lineage. For 17 years she participated in Sundance Lakota prayer ceremonies. The evolution of her life continues in which she welcomes new gateways.